2023 HIGHLIGHTS – So Much Continues to Happen at MPI
So Much Continues to Happen at MPI
For over 51 years, MPI has established itself as the worldwide leader in wax-room innovation. Every year MPI introduces innovative technology or substantial improvements to their current product line.
Our Latest and Most Versatile Injector Ever – the 5X Crossover

One of the most exciting developments is the 5X Crossover Injector. The 5X has all the performance capabilities of our standard injector, including Smart Controls, but is the first one capable of injecting ceramic materials, pattern wax, runner wax, and soluble wax; all equally well. The 5X features rigid, direct in-line injection with Smart Purge. It is the first injector to truly allow for rapid and easy changeover from one ready-to-use material to another in only a matter of minutes. It utilizes a hot swappable reservoir system that allows for off-machine melting, preparation, and conditioning of materials. This means you can readily store full reservoirs keeping them mixed, homogenous, and at the proper temperature. The 5X comes in 25T, 50T and 100T sizes and includes the same impressive range of options as available on all other MPI injectors.
Automated Sticky Wax Assembly for Job-Shop Foundries featuring our NEW Try Before Your Buy Program
MPI is proud to introduce a sticky wax version of their 20-14 Automated Pattern Assembly System (APAS). This new unit, model SA20-12, was designed for commercial foundries where there is a low-volume, high part diversity and those with high changeover demands. Previously, a unique hot knife and gripper, were required for each part making it impractical for lower-volume, high-changeover jobs. This new adaptable system uses a hot air knife and universal gripper allowing the robot to dip each part in sticky wax and weld them to a warmed runner with the same degree of accuracy, orientation, and precision as our industry leading APAS. The flexibility of the gripper allows it to pick up many distinct types of parts. Parts can be changed with a simple programming adjustment. There are many advantages to this new unit. It has a smaller profile and footprint than our standard APAS. Additionally, the unit is priced to meet the lower cost requirements of the commercial industry and does not require the investment in additional custom tooling. Finally, you can now achieve the same high degree of precision, high-yield, and low-scrap levels with this fast, versatile, high-changeover solution. Seeing is believing – to see this amazing machine in action, click here to watch our Automated Sticky Wax Assembly machine demo video.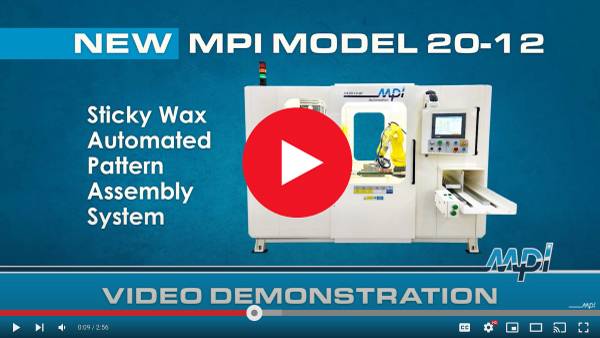 Furthermore, we believe in this new machine so much that we are launching our NEW Try Before You Buy Program.
This program will allow you to experience the benefits of the Automated Sticky Wax Assembly machine firsthand using your own parts – we will even ship a machine to you to trial at your facility before you place your order. Here is how it works:
Step 1: Model Verification – Send us your part, runner, and assembly models for expert verification.
Step 2: Testing Phase – Send a quantity of parts for testing or provide a die for injection. Test with your runners or we can weld parts to MPI runners.
Step 3: Visit MPI Systems – Witness the efficiency of the Automated Sticky Wax Assembly machine in action at our state-of-the-art facility in the beautiful Hudson Valley of NY.
Step 4: Optional Trial at Your Site – We'll ship a machine to your site, at your cost, for a 45-day "try before you buy" trial.
Participate in our program to test the machine in your production environment, evaluate its compatibility, efficiency, and impact on your operations. Click here to learn more about the Try Before You Buy Program or contact our sales team today and revolutionize your assembly line!

An Industry First – Soluble Wax Melter
MPI's new soluble wax-melter is unique to the industry. It is the first melter specifically designed to melt soluble wax into a reservoir. Because of the unique properties of soluble wax, until now, there has not been an efficient way to prepare soluble wax in a traditional melter. MPI has devised a way to melt and deliver soluble wax into the reservoir using a precision melting methodology. On-injector melting of soluble wax has been a challenge for many years. MPI listened and has developed an effective, affordable solution.
Ready-to-Use Wax in a Matter of Minutes – Removable Reservoir/Docking Station

MPI's removable reservoir was designed for wax rooms with more than one wax and will instantly reduce downtime while dramatically improving productivity. This hot-swappable system allows you to condition multiple waxes simultaneously. No longer is there a need to drain, clean and refill the machine's reservoir, taking hours just to change waxes. Simply remove the reservoir on the wax injection machine and replace it with another reservoir which has wax that is fully conditioned and ready to use from the docking station. The entire process takes a matter of minutes. The original wax will then be transferred and connected to the offline docking station where the wax will continue to be melted, stirred, conditioned, and maintained at the right temperature. This means that with only one injector, you can continuously melt and condition multiple waxes offline until that wax is needed. It also ensures you always have the right wax for the job within minutes. You can utilize as many reservoirs and docking stations as you require.

3-Robot Automated Pattern Assembly System for Large, Complex Assemblies
MPI recently introduced a 3-robot Automated Pattern Assembly System (APAS) designed for large, highly complex assemblies such as those required by the aerospace industry. The third robot can take the runner assembly and move it to whatever angle is required to make a perfect weld – even when assemblies are non-planar. The robot can rotate the runner so both vertical and horizontal welds can be made effortlessly. This is another major stride for MPI automation and their ability to address the customers' wax-room demands.
If you would like to learn more about MPI's new customer-oriented offerings and how your foundry can directly benefit from MPI's new and enhanced products, please give us a call. We will walk through your process with you and show you where you can experience gains and returns. We invite you to visit and tour our
Technology Center
at our world headquarters in New York to witness how these machines and enhancements operate in order to see the possibilities firsthand or contact us directly at
sales@mpi-systems.com
or
mpi-systems.com
to learn all about what's new at MPI.