Redesigned MPI 35 Series Wax Injector Sets New Standard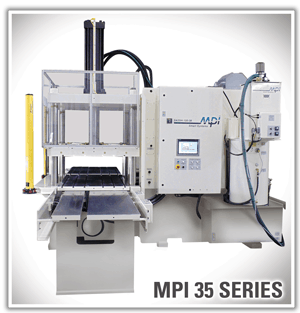 Poughkeepise, NY, July 10, 2017: MPI, the worldwide leader in wax-room equipment, has completely redesigned its 35 Series, 4-post wax injectors. While the former machine provided world-class performance, the new leaner, sleeker machine sets a new standard for large part injection presses and is unlike anything else on the market.
The redesigned 35 Series has a drastically smaller footprint, making it easier to work with and perform maintenance on. It offers industry-leading process controls, utilizing MPI Smart Controls, and a new, lower worktable that takes ergonomics to a new level. Most important, the redesigned machine is more cost-effective to purchase.
"What sets MPI apart from our competition is that we are constantly identifying ways to improve our equipment even while we are still best in class," said Aaron Phipps, VP of Sales and Marketing.
The new, streamlined 35 is poised to take control of the market for 100+ ton machines and reflects MPI's never-ending commitment to innovation and constant improvement. The new 35 is available in three sizes with clamping forces of 100, 200, and 300 tons.
---
About MPI:
MPI is the worldwide leader and innovator of wax-room equipment featuring a broad range of wax-injection machines that generate higher casting yields with increased productivity and throughput. As the acknowledged leader in wax-room innovations, MPI has developed and introduced more systems and products than all its competition combined.
In addition to producing industry leading wax-injection systems, MPI offers total wax-room automation, from wax injection to wax assembly using integrated robotics technology. Automation also allows MPI to provide cost-effective pattern and assembly services that can be shipped directly to its customers. All MPI equipment is backed by a world-class customer service team featuring their Global Support Services program.