MPI takes innovation to new heights with spectacular display at 2022 ICI World Conference & Equipment Exposition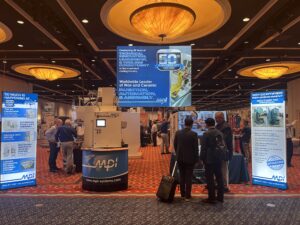 Poughkeepise, NY: MPI, the worldwide leader in wax-pattern and ceramic-core injection, assembly, and automation equipment, stood front and center at this year's ICI World Conference & Equipment Exposition at Disneyland in Anaheim, California, as they introduced a remarkable array of new and innovative products.
MPI, who is celebrating an amazing milestone with its 50th anniversary, came to this year's show ready to impress. "While the pandemic may have slowed down the industry, we were busy using the time to innovate in a big way," said Aaron Phipps, President of MPI.
One of the exciting new innovations was the MPI 5X Crossover Injector.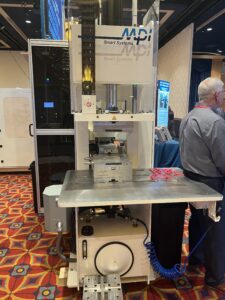 The 5X has all the performance capabilities of a standard MPI injector including Smart Controls but is the first one capable of injecting pattern wax, runner wax, soluble wax, and ceramic materials; all equally well. It allows for rapid and easy changeover from one material to another in only 15 minutes utilizing a hot swappable reservoir system that allows for off-machine melting, preparing, and conditioning of materials. MPI brought a working 5X machine that was actively making patterns at the show, demonstrating its unique capabilities.
The near-record attendance was also treated to the introduction of the MPI SA20-12 Automated Pattern Assembly System (APAS). This sticky wax version of its highly regarded MPI 20-14 APAS is designed for lower volume, job-shop foundries. MPI brought a 2-robot, SA20-12 cell with a comprehensive video mounted inside, demonstrating the many advantages of the new machine. This new adaptable system eliminates the need for a special hot knife and allows the robot to dip each part in sticky wax and secure them with the same degree of accuracy, orientation, and precision as its standard APAS with no required rework to ensure a proper seal. The machine is designed for single-piece flow, offers flexible low-cost tooling, and parts can be swapped with a programming change. Visitors could see first-hand the machine's small profile and reduced footprint, allowing for a very economical solution for the commercial foundries.
MPI also introduced another industry first at this year's show – a soluble wax melter. This is the first melter specifically designed to melt soluble wax into a reservoir using a precise melting technology that allows for full melting without overheating, burning, or degrading the material. The soluble wax melter was mounted to an MPI reservoir on a docking station and was accompanied by a video that demonstrated the units' operation.
Another product presented at this year's event was MPI's removable reservoir and docking station which was designed for wax rooms with more than two waxes. With only one injector, this hot-swappable system allows a customer to simultaneously melt and condition multiple waxes offline until that wax is needed. To change waxes, simply remove the reservoir on the wax injection machine and replace it with another reservoir which has wax that is fully conditioned on the docking station. The entire process takes no more than 15 minutes.
MPI then took wax-room automation to another level with the introduction of a 3-robot Automated Pattern Assembly System (APAS) designed for highly complex assemblies such as those required by the aerospace industry. The third robot can take the runner assembly and move it to whatever angle is required to make perfect welds on any plane. It enables complex, non-planar, multi-part, multi-level assemblies to be completed effortlessly and with no variation. MPI provided a looping video on a huge display monitor that brought the entire process to life.
"This was the perfect way to celebrate our 50th anniversary and to kick off the next 50," said Bruce Phipps, founder of MPI, and inductee to the ICI Hall of Honor. "To be able to highlight our innovative capabilities by introducing so many new products in front of a worldwide audience was very gratifying."
During the conference, MPI made available to customers a large library of videos that allowed booth visitors to learn more about MPI's products and services in visual form, including its popular new refurbishment program. Several attendees and reps from various regions indicated that they had never seen anything like what MPI presented during the show. They said it was another example of MPI being the best in the business for supplying wax-room solutions.
In addition to making a huge technological splash at the conference, MPI also co-hosted a client/vendor appreciation party. The networking event included a night of dinner, drinks, and games at Disneyland Resort's Adventureland Park, as well as tickets to all of Adventureland's rides and attractions.
MPI extends its gratitude to the Investment Casting Institute for putting on an amazing conference and to all those who stopped by to learn more about MPI products and services.