MPI Technology Center Continues to Help Clients Solve Challenging Wax-Room Problems
POUGHKEEPSIE, NY: The MPI Technology Center was once again called upon to help solve a tough problem being faced by one of its clients. Known for its problem-solving capabilities, innovation, and training expertise, the MPI Technology Center is a tremendous resource to prove out processes without disrupting a client's day-to-day production schedule.
The Problem:
An MPI client was trying to create a highly complicated, thin-walled aerospace component and was consistently experiencing non-fills. The client was also experiencing temperature control and wax flow problems. They needed help optimizing the tool to create the type of consistent results they had not been able to achieve to date.
The Solution:
The client sent three engineers and a wax-room lead to the MPI Technology Center to undergo two days of advanced operator training. MPI's goal was to work with the client in a real-world environment to teach them how to improve the process on their own. The two-day course was tailored to their specific needs, and the client brought their tool and worked with their own die and wax.
The Results:
By the end of the course, the client had created an optimized injection recipe and had successfully injected their first acceptable parts. They also learned that there were limitations to the tool that needed to be addressed. Since their visit, the client has continued to use the knowledge they received to repeat the results and to improve on them on their own.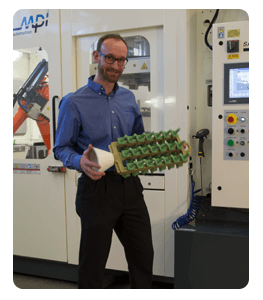 "The client made a smart decision to be proactive about resolving their challenge by deciding to take advantage of the facilities of the MPI Technology Center," said Aaron Phipps, MPI's Vice President of Sales and Marketing. "They left feeling positive about the progress they made and were contemplating what other problems the Technology Center could solve for them. After working together effectively for just two days, we had built a partnership that will continue on."
About MPI:
MPI is the worldwide leader and innovator of wax-room equipment, featuring a broad range of wax injection machines that generate higher casting yields with increased productivity and throughput. As the acknowledged leader in wax-room innovations, MPI has developed and introduced more systems and products than all of its competition combined.
In addition to producing industry-leading wax injection systems, MPI offers total wax-room automation, from wax injection to wax assembly using integrated robotics technology. Automation also allows MPI to cost effectively provide pattern and assembly services that can be shipped directly to its customers. All MPI equipment is backed by a world-class customer service team featuring their Global Support Services program.