MPI President Bruce Phipps Inducted into the ICI Hall of Honor
Acknowledging the Hall of Honor Inductees Leaders in Investment Casting Industry
The Investment Casting Institute added four new individuals to its distinguished list of Hall of Honor inductees at the 63rd annual Technical Conference & Exposition in Columbus, OH. The Hall of Honor was created to acknowledge individuals who have made significant contributions in the investment casting industry.
"At the ICI, we are very proud of this lifetime recognition for individuals who have shaped our industry. This is the highest honor that can be bestowed on an individual and we honored in that we have the opportunity to recognize them," ICI Executive Director Joseph Fritz stated.
In addition to the personal recognition that is made at the technical conference, with the presentation of the Hall of Honor trophy, the ICI unveiled a perpetual plaque noting individuals as they are inducted. This Hall of Honor recognition will be on display at all future ICI Technical Conferences in the Expo Hall and for the rest of the year, proudly displayed at the Institute's office.
MPI Is proud that Bruce S. Phipps, President and Founder, was one of the individuals inducted into the Hall of Honor. Bruce is honored by this award and wants to congratulate James N. Byrne of VA Tech, Inc., Ken Harris of Cannon-Muskegon, and James D. Jackson of S&A Consulting Group for also being inducted.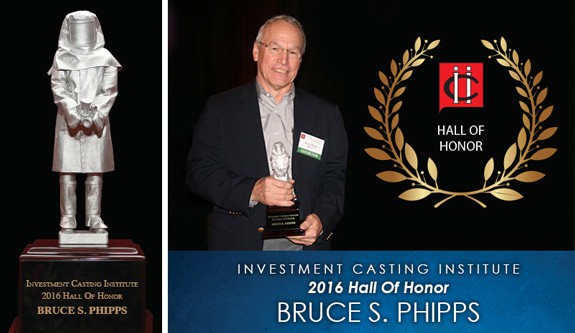 MPI President Bruce Phipps Inducted into the ICI Hall of Honor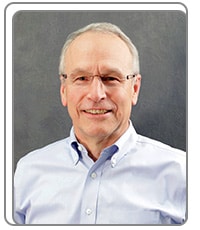 Bruce S. Phipps of MPI, Inc. has been dedicated to developing products and solving problems in the wax room for 40+ years.
Phipps started MPI with his partner and a single employee in 1972. Today, MPI, Inc. employs 75 employees and is an ISO 9001-2008 certified company.
Over the years, Phipps developed and installed the first wax-room automation prototype in the early 2000s and installed the first production automated pattern assembly system. Since that time, he has secured seven patents in the area of wax-room automation.
Phipps has driven partnerships between MPI and the National Science Foundation, as well as the NY State Energy Research and Development Authority and Rensselaer Polytechnic Institute on several research projects.
Phipps served on the ICI Board from 2007 to 2009 and since 2006, he continues to volunteer as an instructor at the ICI Certification and Process Control Courses.
He has written, published and presented numerous papers worldwide.
---
About MPI:
MPI is the worldwide leader and innovator of wax-room equipment featuring a broad range of wax injection machines that generate higher casting yields with increased productivity and throughput. As the acknowledged leader in wax-room innovations, MPI has developed and introduced more systems and products than all of its competition combined. In addition to producing industry leading wax injection systems, MPI offers total wax-room automation, from wax injection to wax assembly using integrated robotics technology. Automation also allows MPI to cost effectively provide pattern and assembly services which can be shipped directly to its customers. All MPI equipment is backed by a world-class customer service team featuring their Global Support Services program.